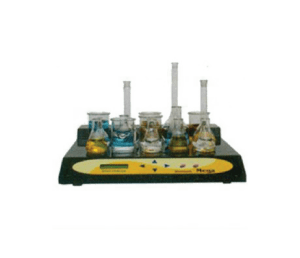 Motorless Magnetic Stirrer Multipoint
Model No – WS Mega
Whirlmatic family of magnetic stirrers with Single and Multipoints are aesthetically designed, compact, ultraflat stirring systems. The ultra flat design is ideally suited for many operations. Due to FRP housing the stirrers are completely corrosion resistant.
The conventional stirrers use a magnet fixed to the motor for rotational force, whereas rotating electromagnetic field is used in motorless stirrers.
WS – Mega D Stirrer
Spectralab's Multipoint Stirrer offers year after year reliable and reproducible wear free operation. It features 15 stirring points for 200 ml vessels or 6 stirring points for 1000 ml vessels. This Motorless magnetic stirrer is very well designed to provide reliable performance for a host of mixing tasks. WS – Mega provides flexible speeds as per different types of applications.
Its powerful magnetic coupling ensures precise stirring for both general and specialized applications. Moreover, it has a provision for stirring time and speed adjustment for dedicated applications. The countdown timer along with the stirring speed in terms of RPM is displayed on the display of the Instrument during operation. This feature helps to save the precious time of the end user as no monitoring is required once the time and RPM is set.
Its Compact, User Friendly and easy to clean FRP Stirring Platform gives a prominent stand to Spectralab in the list of Magnetic Motorless Multipoint Stirrers manufacturers and suppliers