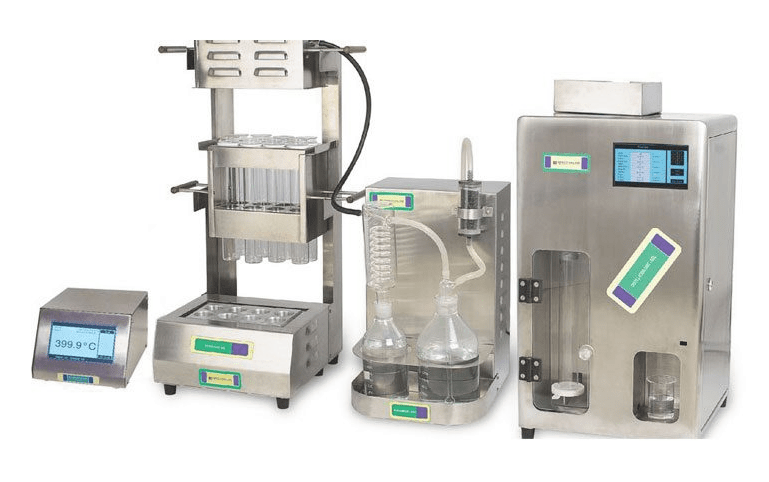 Kjeldahl Nitrogen Analyzer
Model – KNA
Kjeldahl Nitrogen Analyzer has applications in estimation of Kjeldahl Nitrogen and in turn protein estimation. This Spectralab equipment for Kjeldahl method consist of Kjeldahl distilation unit, Kjeldahl digestor and scrubber.
Features (Kjeldahl Digester – DG2)
Direct USB port for PC/Laptop connectivity.
Live graphical representation of time Vs. temp. gradient.
100 programs of 12 sequencing steps.
Alphanumeric keyboard
Blue-White Colored Easy-to-read Graphic Display.
lnbuilt software program for micro & macro nutrient, trace element.
Data logging with respect to time.
Pen drive for data storage.
Programmable user ID / password.
Programmable ramp rate for temperature.
Multi User login.
When using PC data table available on excel.
Over temperature cut off with audio visual indication.
Scrubber Control after digestion with delay time.
CFR Compliant PC control software.
Features (Kjeldahl Digester – DS2)
Can work "Stand Alone" or with PC.
Door Open alarm.
Steam release Valve.
Automatic Sample dilution.
Automatic Alkali addition.
Automatic Boric Acid addition.
Automatic steam generation & addition.
Auto draining facility.
Auto cleaning and water flushing.
Automatic sensing of no water condition in condenser with alarm & warning signal to alert user.
Auto deactivation of operation after few minutes of warning on No-Water condition in case of user non availability.
Automatic measuring and monitoring of high temperature in steam generator with auto warning signal and alarm to control steam generator temperature with digital display of temperature.
Tube insert error indication, auto door open warning indication, auto deactivation of system on error diagnosis.
Fully automatic water level monitoring with centrifugal refilling pump.
Password Protection.
Timer with audible alarm.
Process indications on TFT screen.
Auto Intelligent run of programmable steps.
Process over indication with alarm.
Automatic titration connectivity (for future up-gradation).
CFR Compliance with PC controlled software.